The Max Grow Advantage Two designs - Closed and Slit tube
Max Grow Tube is made of recycled polyethylene and come in the following heights:
12, 18, 24, 30, 36, 48 and 60 inches. The nest of 5 tubes diamenter range from 3 1/2 to 4 3/4 inches .
Max Grow closed tube design proved to be a miracle solution because they achieved the ease of installation at a cost effective price.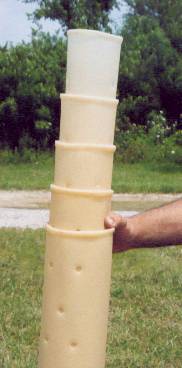 BEST IN TREE GROWTH & SURVIVAL
Max Grow incorporates the features of the top performing protectors on the market - Miracle Tube - independently tested the best protector in growth and survival.
HEAT PROBLEM SOLVED
Max Grow designers knew from prior experience that excessive heat retention was the cause of most of the problems of other shelters. They therefore formulated a polyethylene material that had just the right color and density to promote good tree health.
VENTED OR UNVENTED AVAILABLE
One of the potential drawbacks of the tube style tree shelter is that it cannot be opened up. This means that another method of allowing fresh air to circulate around the tree needed to be found. That's how venting came about. Venting is a simple solution but one that is vital to tree health. A vented tree protector enables the circulation of fresh air through the holes in its wall while at the same time preserving most of the moisture around the tree. For applications where moisture needs to be preserved to an even greater extent (e.g., arid, desert-like environments) Max Grow can be supplied unvented.
Max Grow Tube Information

¨ Cuffed bottom for added support.
¨ Nest of five tubes - 3.5" to 4.75" in diameter.
¨ Made in the USA of 100% recycled materials.
¨ Designed for stake profile of 1.25" x 1" or less.
¨ Flared Top to protect the plant as it emerges from the tube.
¨ Remove the tubes from the field after they complete their task.
¨ Vented to allow the plant to properly harden off or dry out in moist climates.
¨ Life - 4 to 5 years.